Regular price
Sale price
$45.00 USD
Unit price
per
Sale
Sold out
Share
 Nutritional Support for Muscle and Joint Health
Critical Ingredients Include:
 -Chonroitin-
 -Critical Ingredients-
 -Glucosamine-
 -Chondroitin-
  -MSM-
 -Hyaluronic Acid-
 -Collagen-
 -Coconut MCT Oil-
 -Turmeric-
 -Boswellia-
Active Dog was formulated with longevity in mind. More than just a joint supplement, it is also designed to prevent damage and repair what has been done already. All dogs, large and small or young and old, can put stress on joints and muscles. This power packed product could be used as a maintenance or a treatment. The combination of nutrients may work to reduce the inflammation and pain of hip and joints. Specific ingredients to provide joint function and comfort would be Glucosamine and Hyaluronic Acid. These two can both assist in joint lubrication to allow for more flexibility and joint mobility.  The Chondroitin and Collagen can work together to repair and rebuild cartilage and bones. Collagen may also strengthen hair, skin, nails and teeth. Boswellia and Turmeric have both anti-inflammatory and antioxidant properties which are excellent together for pain and inflammation from injuries or deterioration. Antioxidants are well known to heal and repair the body. MSM is also known to relieve inflammation in muscles. The Coconut MCT Oil or Medium chain triglycerides is the good fat, the kind that provides many health benefits.  Coconut oil is comprised of Lauric Acid, Capric Acid, Caprylic Acid. Lauric acid has antibacterial, antiviral, and anti-fungal properties. Capric and Caprylic acid are best known for their anti-fungal effects.  MCTs can also provide fuel and energy, enhancing athletic performance and even aiding weight loss or helping sedentary dogs feel more energetic. As you can see Active Dog would be a great addition for your dogs health.
View full details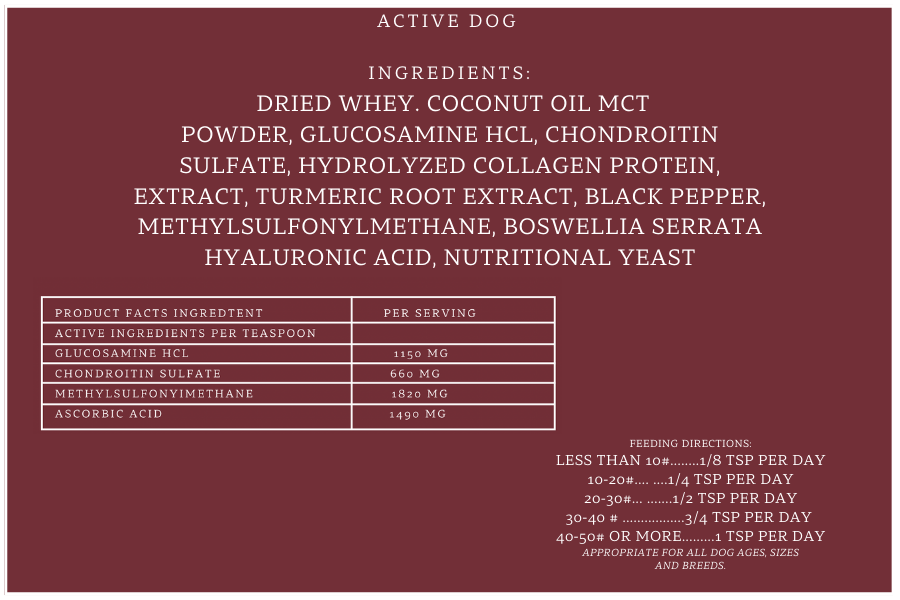 Shipping

We ship orders daily. Your order will ship within 24 hrs of when it was placed. We ship using UPS & USPS

Returns

We do not offer general returns; however, we stand behind the quality of our products. if you receive a damaged product or if you are unhappy in any way? Please contact us, so we can make it right.
Please Contact Us With Any Product Questions or Dosing Instructions
Phone: 574.216.0547 or Kevin.EliteGlobal@gmail.com