Regular price
Sale price
$49.00 USD
Unit price
per
Sale
Sold out
Share
Internal top dress for insect resistance

Proven more effective when top dressed approximately 3 weeks prior to season

Less flying insects on horses and in the barn
Suggested maintenance is 1/2 ounce per day
Swat No-More is formulated as a high sulfur product containing Garlic and MSM.
As fed. the sulfur may contribute to changes in the blood chemistry of the horse.
These changes may reduce the attraction of insects to the horses. We recommend
feeding a loading dose of 2 oz per head per day for the first 10-14 days. Then back
down to 1 oz per head after using the product for more than 6 weeks.
We have been told that the biggest notice can be seen in the barns in the manure
piles. The flies are not reproducing nearly as much. Also, a customer got a kick out
of watching his horse at the hitching rack with several other horses and seeing that
his horse was still and calm because the flies were not bothering him like they were
other horses.
View full details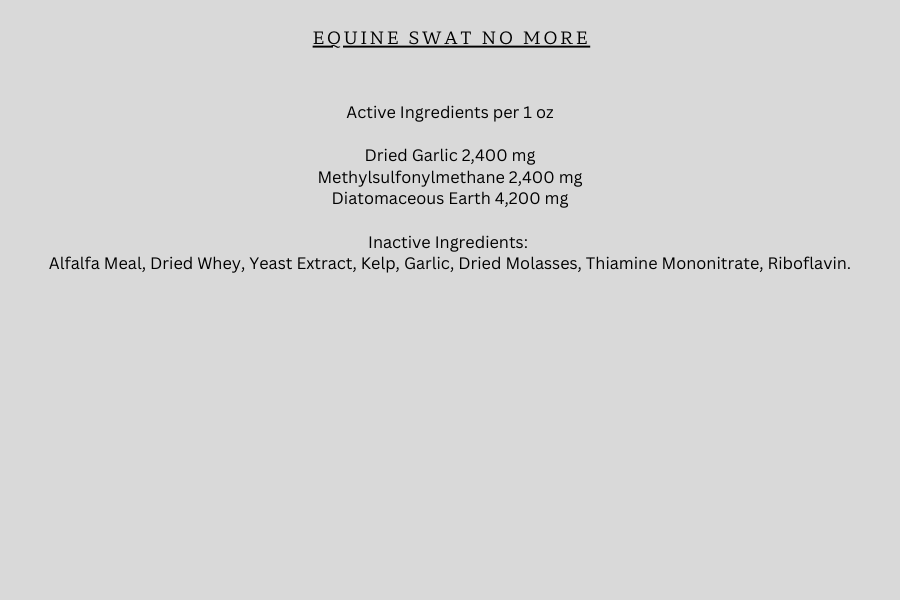 Shipping

We ship orders daily. Your order will ship within 24 hrs of when it was placed. We ship using UPS & USPS

Returns

We do not offer general returns; however, we stand behind the quality of our products. if you receive a damaged product or if you are unhappy in any way? Please contact us, so we can make it right.
Please Contact Us With Any Product Questions or Dosing Instructions
Phone: 574.216.0547 or Kevin.EliteGlobal@gmail.com