Regular price
Sale price
$20.00 USD
Unit price
per
Sale
Sold out
Share
Essential Dog is formulated to provide an extra boost of nutrition, energy and immunity to dogs as they are growing, breeding or aging. Packed full of nutrients that target specific weaknesses or problems like intestinal issues, parasite issues, breeding issues, weak bones, skin and hair coat issues and ph disturbances. MOS Yeast helps prevent pathogens from binding to the intestinal lining. Also intensifies resistance to numerous other bacteria, viruses, molds and fungi. Naturally mined and chelated minerals are highly absorbable. Kelp and Spirulina are also great sources of natural vitamins and trace minerals.
This product is formulated to provide an extra boost of nutritional support.  Daily vitamins and minerals supply energy and vitality for dogs as they grow, breed and age. Pro & Pre-biotics help build and maintain a strong immune system, which is essential to keep dogs healthy during periods of stress. This is especially important for dogs that travel, perform, compete and breed as they are exposed to many new environments with different germs and bacteria.  
Bring balance to the blood with proper nutrients and minerals helps regulate the hormones for improved breeding and performance.  Digestive enzymes help improve digestion and absorption of nutrients.
View full details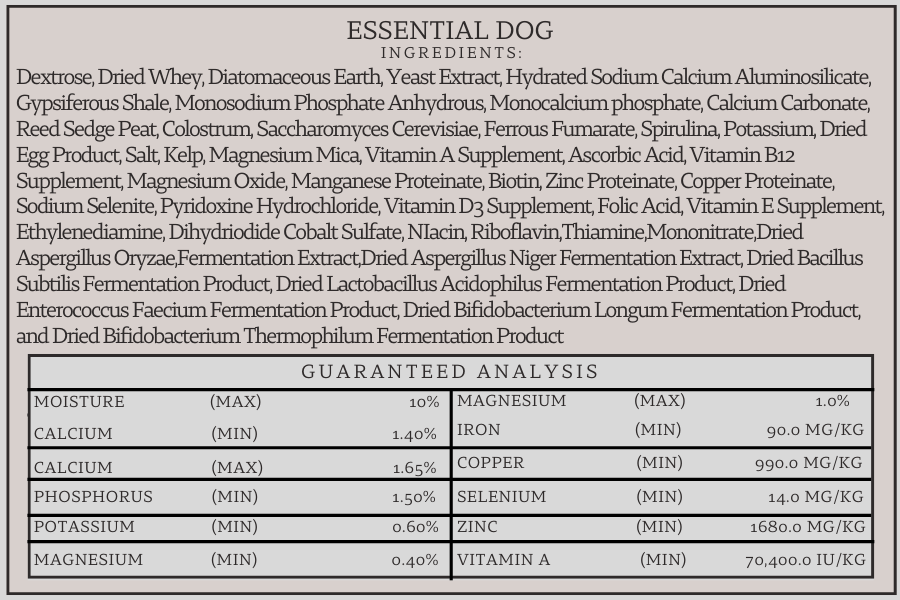 Shipping

We ship orders daily. Your order will ship within 24 hrs of when it was placed. We ship using UPS & USPS

Returns

We do not offer general returns; however, we stand behind the quality of our products. if you receive a damaged product or if you are unhappy in any way? Please contact us, so we can make it right.
Please Contact Us With Any Product Questions or Dosing Instructions
Phone: 574.216.0547 or Kevin.EliteGlobal@gmail.com